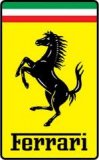 Руль и педали для комп. игр Ferrari Vibration GT cockpit 458 Italia Edition, артикул 280011169R
Официальная коллекция Ferrari, 2013 год
Наличие на складе:

не поставляется

Понравился аксессуар?
Расскажи о нем друзьям!
Thrustmaster is pleased to unveil the first cockpit officially licensed for Xbox 360® (also PC-compatible) with a built-in wheel and pedal set. An official Ferrari® licensed product, this cockpit concept is adjustable and foldable, and uniquely incorporates a technology which spreads out vibrations in games throughout the cockpit's entire structure! PC-compatible (WINDOWS 8, 7, Vista & XP)
Designed for instant fun
The philosophy behind this cockpit is to maximize users' gaming time: say goodbye to long installation processes, and to the hassle of attaching your wheel to a table or desk and connecting a pedal set… Feel like playing? Now you can do so almost instantly, and there's no need to rearrange your living room's setup, either: the cockpit can be used almost anywhere, and easily adapts to any seating arrangement (sofa, armchair…) and to any user's size (adults, teens, children…) thanks to its adjustable design, which can easily be adjusted both in length and in height. And when you factor in the cockpit's convenient carrying handle, you've got everything you need to be able to jump right into the action every time you hear the racetrack call your name, and quickly store the cockpit away in some unobtrusive spot when it's not in use… to avoid causing too much jealousy!
Superior features, with G.V.S. (Global Vibration System) in the pole position!
The wheel on the Ferrari Vibration GT cockpit 458 Italia edition incorporates G.V.S. (Global Vibration System) technology, allowing for the high-frequency vibrations from the motors to be felt not only on the wheel itself, but also throughout the cockpit's entire steering column and pedal set as well, for incredibly realistic sensations and total immersion in games.
The wheel is ultra-precise, featuring 16-bit performance for more than 65,000 values on the wheel's steering. Gear shifting is carried out via the wheel's metal Up & Down sequential paddle shifters.
The wheel also features a Manettino® dial, just like on the real Ferrari® car! Textured rubber grips on the wheel ensure optimal comfort, and the cockpit even includes a headset connector for communication during multi-player gaming.
Unique metal look
With its streamlined "Musetto" body shape featuring a metal structure, the Ferrari Vibration GT cockpit 458 Italia edition looks great in any living room. Its wheel measures 28 cm in diameter, and is a 7/10 scale replica of the wheel on the Ferrari F458 Scuderia. Its wide, weighted base weighs in at over 10 kg, providing the cockpit with excellent overall stability. Another huge advantage in relation to a standard setup is that the 2 metal pedals are built directly into the cockpit, further increasing stability. What's more, everything is ready for use in games by simply connecting the cockpit to user's console or PC. The pedals feature a long range of travel, with progressive resistance on the brake pedal for maximum realism.
Коллекция сувениров и аксессуаров Ferrari

Представляем оригинальную коллекцию сувениров и аксессуаров Ferrari: одежда, обувь, сумки, кошельки, рюкзаки, бейсболки и многое другое. Все товары отличного качества, производства немецкой компании PUMA - официального партнера Ferrari. Большинство товаров выполнены в традиционных для Феррари цветах - красный, белый, черный.