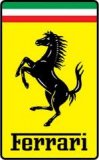 Kaspersky Internet Security Special Ferrari Edition, артикул 280008642
Официальная коллекция Ferrari, год
Наличие на складе:

не поставляется

Понравился аксессуар?
Расскажи о нем друзьям!
Kaspersky Lab and Ferrari, companies that hold the central position of values such as technological excellence, high performance and security in first place, are pleased to offer PC users the new Kaspersky Internet Security Special Ferrari Edition. KIS Special Ferrari Edition is software that lets you thoroughly enjoy safe Internet surfing, whether for work, purchases or online games. But now there's more: you can play the official Ferrari Academy video-simulator! In the driver's seat of a Ferrari F10, you can race on the famous Fiorano racetrack, branded Kaspersky Lab for the occasion.
Main features and benefits
Kaspersky Internet Security Special Ferrari Edition includes all Kaspersky Internet Security's features and technology, ensuring that your PC has unequalled protection from all types of malware and Internet-based threats. The product includes:
-Avant-garde technology for winning performances
Created from the technology of the two most valued companies in the world
-Advanced protection of digital identity
Intelligent anti-phishing protection and a Virtual Keyboard that makes all your online shopping and banking transactions safe, just like registrations and access to social networks.
-New! Windows gadget in unique Ferrari style, with the Kaspersky Lab logo
Use the Ferrari personalised widget to check your PC protection status and to access your settings and product functions quickly. It's never been so easy!
-Proactive protection in real time from all Internet threats
Prevents computer infection from IT threats, whether known or unknown.
-New Safe Surfing function.
With the safe surfing mode, you will never be exposed to dangerous sites or those containing offensive material. Regular updates of the Kaspersky Lab database let the safe surfing mode automatically block undesired sites from appearing.
-Efficient and flexible Parental Control
The advanced functions of parental control block, limit and register your children's applications and access to websites, guaranteeing them maximum online safety.
-Protected Mode for applications and websites
The protected mode lets you make applications and suspect websites in a perfectly isolated environment, so the system doesn't suffer any damage.
-Computer Optimising Tools
More tools are available that let you increase the degree of protection and optimise your system. Among them are: the Restore Disk, Vulnerability Scanner, System Restore, Browser Configuration and Activity Chronology Elimination.
Коллекция сувениров и аксессуаров Ferrari

Представляем оригинальную коллекцию сувениров и аксессуаров Ferrari: одежда, обувь, сумки, кошельки, рюкзаки, бейсболки и многое другое. Все товары отличного качества, производства немецкой компании PUMA - официального партнера Ferrari. Большинство товаров выполнены в традиционных для Феррари цветах - красный, белый, черный.